Helping Children in the St. Louis Metro Area
---
Hunger Doesn't Take a Weekend Break
The Operation Backpack program decreases the burden of childhood hunger throughout the metro St. Louis area by providing a weekend food assistance program. In our service area, over 170,000 children live at or below the federal poverty level – a condition that almost always equates to missed meals and hunger. Since nutrition affects cognitive, social and emotional development, children who do not get proper foods are more likely to have problems learning, growing and interacting. Operation Backpack ensures that children who rely on free or subsidized lunches continue to receive proper nutrition vital to their growth and development.
Operation Backpack School Partners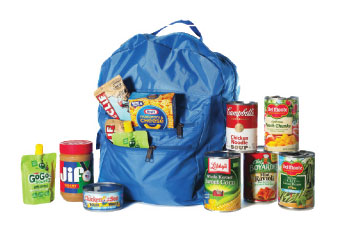 Belleville School District 118
Ferguson-Florissant School District
Grace Hill Head Start Centers
Hazelwood School District
Normandy School District
Ritenour School District
Riverview Gardens School District
St. Louis Public Schools
University City Schools
Wentzville R-IV School District
How Operation Backpack Works
On Fridays, or the last day of school before the weekend or holiday vacation, participating children discreetly receive a backpack loaded with nutritious, easy-to-prepare foods. Children return the empty backpacks to school on Mondays to be refilled and the cycle continues.
The weekly sacks of "kid-friendly," shelf-stable food gets students through the weekend when school meals are not available and:
Removes the barrier of hunger that contributes to poor school performance and attendance
Reduces health problems by mitigating the negative consequences of under-nutrition
Increases nutritional intake of participating students by providing healthy food in backpacks, limiting sugars and "empty" calories
Operation Backpack Contributes to Academic Success
The nutritious food provided enables children to come back to school on Monday with the focus they need to achieve academic success.
87% of the school personnel have seen a positive impact on the families of students participating in the Operation Backpack program.
Nearly 60% of the teachers surveyed saw an improvement in academic performance and behavior from participating students.
Parents, grandparents, and guardians report the food assistance helps relieve both emotional and economical stress for the family. For participating children, this means they can learn more and worry less.
"I feel participating students are improving academically because they seem to be more focused and able to listen." – A teacher from St. Louis Public Schools reports

"Our reading scores have improved. This is partly due to having nutrition. Good nutrition helps brains develop." – David Watkins, Principal of Airport Elementary
Enrolling in Operation Backpack
To enroll a school into the Operation Backpack program, please complete the interest form below. Your school will be placed on our waiting list until we have an opening or the ability to add additional schools. You will be contacted when you are selected to participate.
For more information, email Melissa.
Email Melissa