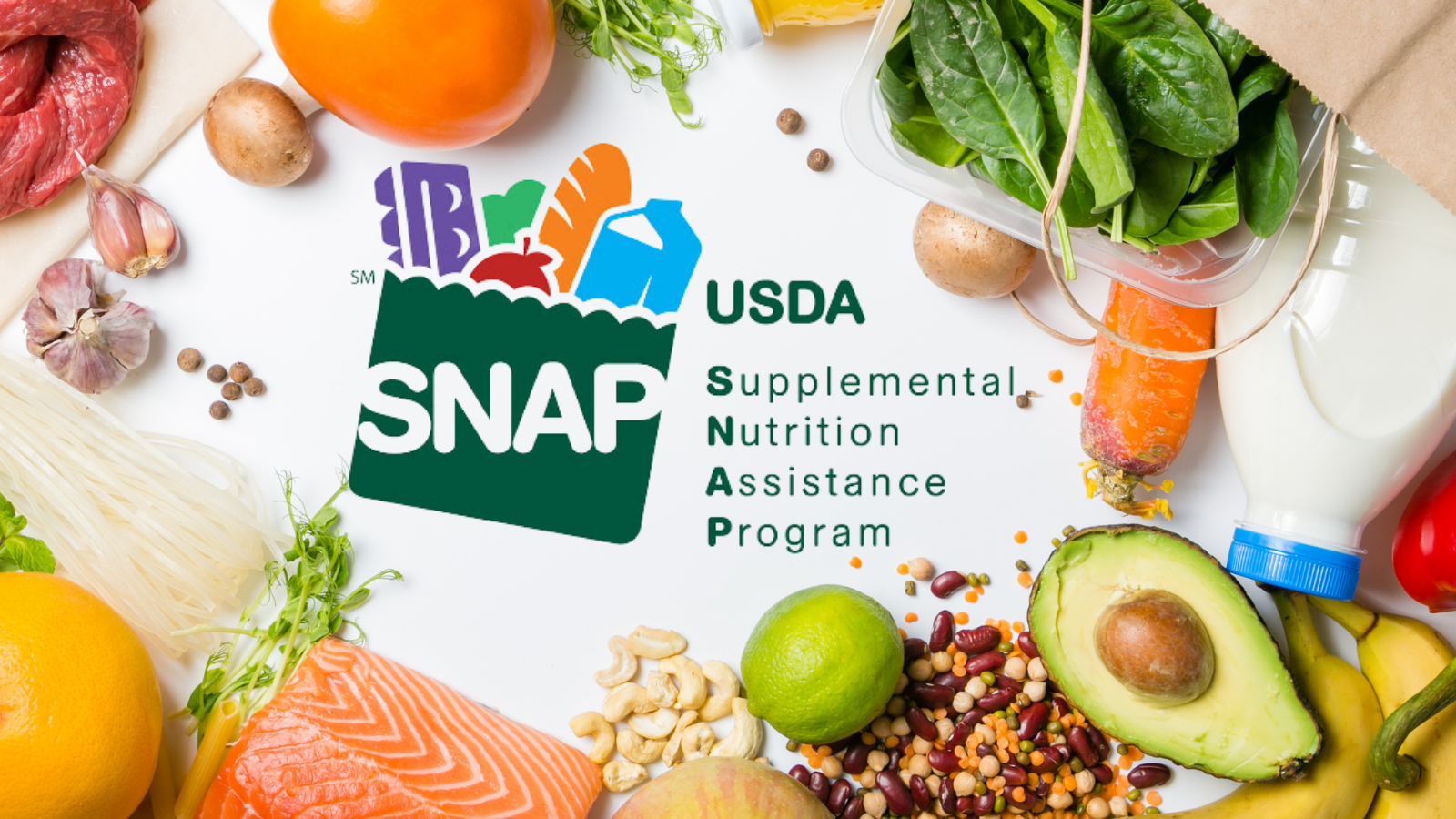 What is SNAP?
The Supplemental Nutrition Assistance Program (SNAP), formerly known as food stamps, is the nation's most important anti-hunger program. SNAP provides monthly benefits to eligible low-income households on an Electronic Benefit Transfer (EBT) card to purchase food and food products like seeds and non-alcoholic beverages at approved grocery stores, farmers markets, and retailers. SNAP can even be used online to purchase groceries for delivery or pickup through many popular retailers. While other nutrition safety net programs are restricted to particular categories, SNAP is broadly available to households with low-income, making it the largest nutrition assistance program administered by the U.S. Department of Agriculture (USDA). Most households that have gross income at or below 130% of the federal poverty guideline for the household's size are eligible for benefits. SNAP benefit levels are based on the USDA's Thrifty Food Plan, which is an estimate of how much it costs to buy and prepare nutritious, low-cost meals for the household assuming they take steps to stretch their budget. In October 2021, the USDA's update to the Thrifty Food Plan went into effect and raised SNAP maximum benefits by 21 percent. The historic improvement to SNAP benefits increased the food purchasing power of low-income families who use the program and more accurately reflects the cost of a healthy, nutritious diet.
What impact does SNAP have?
A vast body of research shows SNAP plays a critical role in reducing hunger, poverty and improves health, education and economic outcomes. Food and nutrition access are interlinked to the health and wellbeing of children and adults. Food insecurity, and even marginal food insecurity, is associated with common and often costly physical and mental health issues in adults, including diabetes, hypertension and depression. The consequences of poverty and food insecurity are especially detrimental to the development and well-being of children. Research links childhood food insecurity with poor academic outcomes and adverse health conditions such as anemia, asthma, mental health and behavioral problems. SNAP plays a particularly essential role in addressing the connection between hunger and health among the most vulnerable populations, as more than two-thirds of all SNAP participants are children, elderly persons or individuals with disabilities. SNAP and increased benefits are linked to reduced food insecurity, health care expenditures and hospital utilization by its simple boost to food purchasing power of low-income households.
According to the Center on Budget and Policy Priorities (CBPP), SNAP helps lift millions of families nationwide out of poverty, including deep poverty (income below half of the poverty line), by helping put food on the table. While SNAP benefits can only be spent on food and food products, it frees up money that households would otherwise need to spend on food. Thus, each dollar of SNAP benefits leads to more resources available to be spent on other goods and services. It is estimated that every $1.00 in SNAP benefits generates $1.50 in GDP during a weak economy. SNAP's high "bang-for-the-buck" return supports CBPP's claim that investing in increased benefits is one of the most efficient and effective ways to stimulate the economy.
SNAP's Vital Response During COVID Supported Missouri
SNAP was foundational to supporting the nation's health and mitigating hardship throughout the COVID-19 pandemic. In early 2020, before the spread of the coronavirus across the United States, levels of food insecurity were the lowest they had been in twenty years. The global pandemic then led to an unprecedented surge in children and adults facing hunger. The pandemic-related economic recession hit quickly, and unemployment spiked in Missouri from 3.3% in February 2020 to 11.2% by April 2020. Further, the closures of schools and childcare centers put children and families who rely on access to those meals at even greater risk of food insecurity.
The Supplemental Nutrition Assistance Program responds quickly and effectively to support families and communities during times of economic hardship and increased need. Between February and April 2020, SNAP enrollment in Missouri increased by 50,000 households that included nearly 100,000 additional participants. Congress responded with waivers to provide the flexibilities SNAP administrators needed to get increased benefits to more people quickly and safely. The Families First Coronavirus Response Act of 2020 provided waivers such as extending certification periods, waiving initial and recertification interviews, removing the time limit for adults from 18-49 without dependents and lifting restrictions on eligibility for college students to make it easier to access SNAP during the public health emergency. Pandemic flexibilities also included providing the maximum SNAP benefit allotments to all participants. By August of 2021, the last month for maximum allotments in Missouri, Missourians received about $160 million in monthly SNAP benefits – double that of pre-pandemic levels. The average monthly benefit received by 336,000 households and nearly 700,000 participants was $470 per household and $228 per person. With the loss of some COVID-related increases and after the Thrifty Food Plan adjustment took effect, the most recent data showed monthly benefit averages dropped to $350 per household and $172 per person in December 2021.
A Strong Supplemental Nutrition Assistance Program is Still Needed
As SNAP directs resources to low-income households, it is a program that promotes equity. The burden of economic crises is not experienced evenly. Many of those most impacted were already food insecure or at risk of food insecurity prior to COVID and faced greater hardship since COVID. Making it possible for everyone to access and afford nutritious and quality food is an important piece of racial equity. Improving the adequacy of SNAP benefits is particularly important in addressing disproportionately high rates of food insecurity in Black and Latino households. Poverty and food insecurity rates are higher among Black and Latino households due to racism and structural factors including unequal education, job and housing opportunities that contribute to income disparities. Investment in SNAP is critical to an equitable response in times of crises and beyond.
Families are still dealing with the effects of the pandemic. We know inflation, changing or ending of jobs, loss of family members, lack of childcare, stable housing and other barriers are making it difficult to afford essentials like food and medication. People are also still dealing with physical barriers to food access, especially in rural areas where the closest grocery store or pantry might be miles away. SNAP is playing an extremely important role in ensuring folks are fed while communities continue to recover from the devastating impacts of the COVID pandemic. To support and sustain our recovery from the pandemic, we must protect and strengthen the SNAP program.
The evidence is clear: increased SNAP benefits have positive impacts on food security, poverty and health. With the pandemic-related waivers ending at the end of the public health emergency declaration, households that rely on SNAP and food advocates are concerned over the likelihood that food insecurity will rise. Though the Thrifty Food Plan adjustment was a permanent and important increase in support, the loss of COVID-related benefit boosts will be significant. To address shortcomings, policymakers should invest in program administration, protect SNAP access, increase SNAP benefits and expand eligibility provisions. –Written by Madison Eacret, OFS coordinator of public policy.
To learn more about SNAP eligibility and how to apply for benefits, visit our SNAP Resources page or the Missouri Department of Social Services website.
Written by Madison Eacret